Promise by Minrose Gwin
Evening Book Club meets September 27th at 6:30 p.m. in the Library.
Book Blurb:
"In the aftermath of a devastating tornado that rips through the town of Tupelo, Mississippi, at the height of the Great Depression, two women worlds apart — one black, one white; one a great-grandmother, the other a teenager — fight for their families' survival in this lyrical and powerful novel."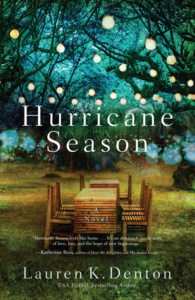 Hurricane Season by Lauren K. Denton
Evening Book Club meets October 25th at 6:30 p.m. in the Library.
Book Blurb:
"Hurricane Season is the story of one family's unconventional journey to healing—and the relationships that must be mended along the way."
The Midnight Library by Matt Haig
Evening Book Club meets November 22nd at 6:30 in the Library.
Book Blurb:
"Between life and death there is a library, and within that library, the shelves go on forever. Every book provides a chance to try another life you could have lived. To see how things would be if you had made other choices . . . Would you have done anything different, if you had the chance to undo your regrets?"
The Woman in the Window by A. J. Finn
Showing on Saturday, September 11th at 1:00 p.m. in the Community Room
Book Blurb:
"Anna Fox lives alone, a recluse in her New York City home, unable to venture outside. She spends her day drinking wine (maybe too much), watching old movies, recalling happier times . . . and spying on her neighbors.
Then the Russells move into the house across the way: a father, a mother and their teenage son. The perfect family. But when Anna, gazing out her window one night, sees something she shouldn't, her world begins to crumble and its shocking secrets are laid bare."
Those Who Wish Me Dead by Michael Kortya
Showing on Saturday, October 9th at 1:00 p.m. in the Community Room
Book Blurb:
"When fourteen-year-old Jace Wilson witnesses a brutal murder, he's plunged into a new life, issued a false identity and hidden in a wilderness skills program for troubled teens. The plan is to get Jace off the grid while police find the two killers. The result is the start of a nightmare.
The killers, known as the Blackwell Brothers, are slaughtering anyone who gets in their way in a methodical quest to reach him. Now all that remains between them and the boy are Ethan and Allison Serbin, who run the wilderness survival program; Hannah Faber, who occupies a lonely fire lookout tower; and endless miles of desolate Montana mountains.
The clock is ticking, the mountains are burning, and those who wish Jace Wilson dead are no longer far behind."
Tom Clancy's Without Remorse
Showing on Saturday, November 13 at 1:00 p.m. in the Community Room
Book Blurb:
"John Kelly, former Navy SEAL and Vietnam veteran, is still getting over the accidental death of his wife six months before, when he befriends a young woman with a decidedly checkered past. When that past reaches out for her in a particularly horrifying fashion, he vows revenge and, assembling all of his old skills, sets out to track down the men responsible, before it can happen again.
At the same time, the Pentagon is readying an operation to rescue a key group of prisoners in a North Vietnamese prisoner-of-war camp. One man, they find, knows the terrain around the camp better than anyone else they have: a certain former Navy SEAL named John Kelly.
Kelly has his own mission. The Pentagon wants him for theirs. Attempting to juggle the two, Kelly (now code-named Mr. Clark) finds himself confronted by a vast array of enemies, both at home and abroad – men so skillful that the slightest misstep means death. And the fate of dozens of people, including Kelly himself, rests on his making sure that misstep never happens."
September 23rd 6:00 – 7:00 p.m.
Location: Library Tables
In this technology class, participants will learn to use our electronic resource services Hoopla, Libby, and 3M Cloud. We'll cover how to set up accounts, search for titles, and download to your devices. If you use a tablet, iPad, or Kindle, bring it along!
October 28th 6:00 – 7:00 p.m.
Location: Community Room
Learn to use the library's Cricut Explore Air 2 available for inhouse check-out. We'll cover the basics of the Cricut machine and its online design space. Then, we'll have a workshop where the participants will make their own bookmarks.
November 18th 6:00 – 7:00 p.m.
Location: Community Room
Interested in developing your graphic design skills to create fliers, graphics, social media posts, and more? Attend this class to learn the basics of Canva, an online marketing creation platform. We'll cover how to create an account and the platform's design functions. Then as a hands-on workshop, participants will be given a prompt to create marketing materials for a special event.
Laptops and tablets will be provided for the workshop, but feel free to bring your own!
Saturday, September 25th 10 a.m. – 12 p.m in the Community Room
$65 participant fee
In this workshop, you'll create a pair of pumpkin metal signs with your choice of "Happy Halloween" or "Hello Fall" vinyl application. Open to "Adult & Me" duos as well as solo adults (who will do both signs).
Saturday, October 16th
10:00 – 12 p.m. in the Community Room
$45 participant fee
In this workshop, you'll create a metal witch hat sign with a vinyl application of "the witch is in."
At the Rochester Public Library we strive to provide a variety of programs to meet the needs and interests of our patrons. Click HERE to see our Fall 2021 newsletter. Please contact the Library if you have any questions.
Do you have a program you want to offer? Or one you would like to see at the library? Please contact Devon at: adult.programs@rochesterlibrary.org
CONNECT. DISCOVER. CREATE.