Adult programs
Spring 2023
Adult Programming Events:
Mosaic Flower Pot Class
Tuesday, May 2 | 6:00 p.m.
Cover a clay pot with mosaic tiles and plant a flower inside. Class starts at 6:00 p.m. $10.00 supply fee must be paid in advance.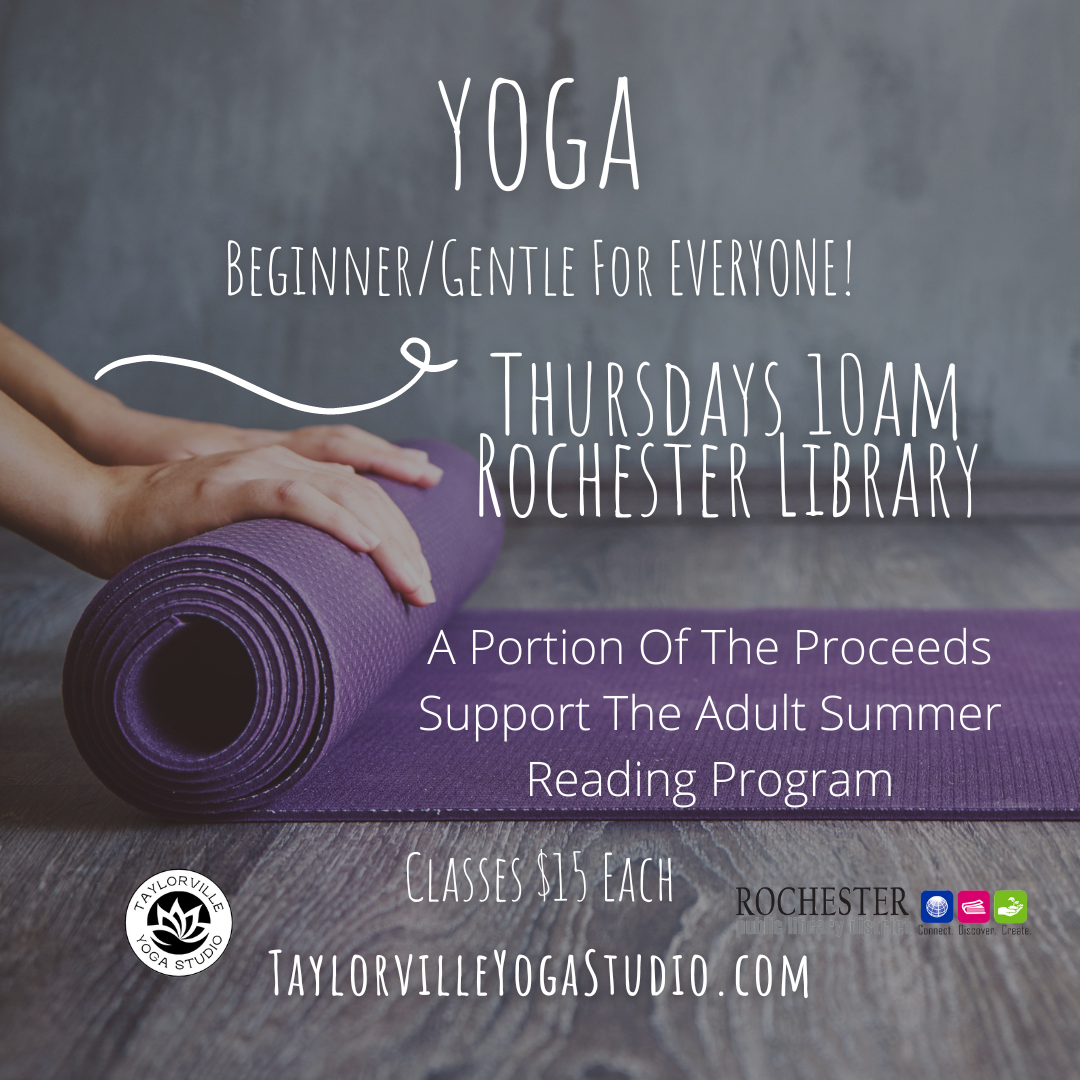 Beginning Yoga Workout
Thursdays March 9 – May 5 @ 10:00 am  $15.00 fee per week
This drop in class will meet Thursdays @ 10:00 am for six weeks beginning Thursday, March 9. Join Tina Russo Lancey from the Taylorville Yoga Studio for a 50 minute beginner/gentle level yoga class. Come one week or all six. You can choose. No preregistration is necessary.
Tales and Travel Memory Care Program
Second Wednesday of the month @ 2:00 pm  free
Interested in Volunteering? Call the library and ask for Beth.
Once a month, the Library Van will take the world to Carriage Crossings Rochester. Their memory care residents will enjoy stories, snacks and activities from locations around the globe as we virtually visit other places. If you are interested in joining us as a volunteer, please call and talk to Beth or email adult.programs@rochesterlibrary.org.
Life and Limb
April 10 – May 20 during library hours  free
This museum quality traveling exhibit will be on display at the Rochester Public Library from April 10 – May 20, 2023. Come learn about the experiences of wounded soldiers during the conflict and in the years after the American Civil War. The National Library of Medicine produced this exhibition and companion website. For lesson plans visit https://www.nlm.nih.gov/exhibition/lifeandlimb/index.html.
National Library Week Contest
April 23 – 29 during library hours  $5.00
During National Library Week, we are having a "design your own library" competition. Purchase a kit for $5.00 (to help pay for supplies) and create your own miniature library in a tin. Each kit comes with wallpaper, materials for making books, shelves, a miniature library card, and other items for a great place to read. You'll just need scissors and glue.
You'll have two weeks to complete your library and return it for the display. When the votes are tallied, the top three libraries win a prize! This contest is open to teens and adults. Winners will be announced on May 15.
Beginner Salsa Lesson | Thursday, June 22 @ 6:30 pm
Join us at six-thirty for a free Beginner Salsa lesson from Young Dance, Inc.
How to Preserve Old Photographs May 23 @ 6 pm
Do you have old photographs or video tapes at home in boxes? We have the capability to transfer video from old VHS tapes to DVD, as well as scan in old photographs to save digital copies here at the library. Come learn how to digitally preserve your memories for future generations and keep them from further deterioration.
Have an idea for a tech class?
We are always looking for new ideas! If there is something you would like to learn about the world of technology, please let us know at the library. Call 217-498-8454 or email Beth at adult.programs@rochesterlibrary.org.
Book Club Information
Rochester Public Library currently offers two book clubs.
Day Book Club meets at ten in the morning and reads a little bit of everything. Our conversations are lively and there are always treats to go with the coffee.
Evening Book Club meets in the evening and reads books with a primarily historical focus. Members' willingness to dig a little into the historical background of the story makes for interesting conversations around the book of the month. 
In the past, we have done a book to movie club – and are willing to bring it back should there be interest. Please let us know at the front desk or email us at adult.programs@rochesterlibrary.org.
Blood Drives
Weds. June 21 | 3-6 p.m.
Registration required
To schedule an appointment, please contact the library or register at:
Rules of the Road
Weds., June 21 | 1:30 – 3:30 p.m. 
Registration required
The Rules of the Road Review Course  combines an explanation of the driving exam with a practice written exam, helping prepare drivers for the tests. This is not the course that allows a potential insurance rate reduction.
License Plate Renewals
RPLD can renew your license plates here in town! Stop by the library from 10 am to 5 pm Monday – Friday, or Tuesday evenings until 8 pm. and walk out with your renewal sticker and registration. (You will need your renewal postcard or the vehicle's VIN# and a valid driver's license. Convenience fee applies.)
Safe Driving Course
Next Date TBD
Registration required – 20 participants maximum
This is an all day course that is specifically designed for drivers age 50 and older. In many states, drivers may benefit from a discount on their auto insurance premium upon completing the course. Bring a lunch.
At the Rochester Public Library we strive to provide a variety of programs to meet the needs and interests of our patrons. Click HERE to see our Fall 2022 newsletter. Please contact the Library if you have any questions.
Do you have a program you want to offer? Or one you would like to see at the library? Please contact Beth at: adult.programs@rochesterlibrary.org
CONNECT. DISCOVER. CREATE.